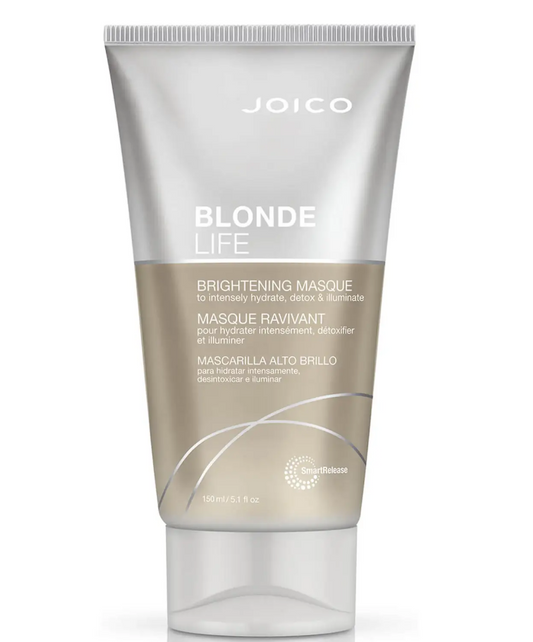 Joico Blonde Life Brightening Mask
Platinum Hair Extensions Ireland
Description

Transform dull, tangled hair into locks brimming with energy and shine with the Joico Blonde Life Brightening Masque. Boasting near-magical results, the nourishing masque works to revive and restore strands without weighing them down. If your blonde is verging on the side of yellow, the mask will help to neutralise chlorine and remove trace minerals, cooling warm tones for a crisp finish.

Deeply hydrating, hair that suffers from dryness as a result of bleaching and processing will feel silkier and look more natural. The mask has a polishing, brightening effect that's enhanced by innovative Smart Release Technology, a three-ingredient blend stowed safely inside an invisible liposome, meaning it never leaves behind grease or unwanted residues.

Containing an important amino acid, Arginine, hair will look and feel stronger for a healthier appearance that stands the test of time. Coconut Oil and Tahitian Gardenia Flower form a luxurious Monoi Oil blend that's highly effective in the fight against frizz. Tamanu Oil steps in to shield against potential environmental damage while protecting against fading caused by UV rays. It's rich in Omege 6 and 9, meaning your hair will be treated to a burst of goodness to stop brittleness and dullness.